GET in touch with THE VENUe first… DOORS OPEN AT 9:30
Insights Hall (Keynotes, Talks, Screenings)
Screening Hut
Showcasing this year's best
Long-listed Films 2019
Food Court
Want to sponsor the drinks and food?!
(Working on it…)
SIT DOWN AND GET PULLED IN BY THE VIBES AROUND YOU…
Discovery Gate
Installation / VR / Exhibition all in all sth. immersive…
10:30 - 11:45
The importance of cutting still seems to be underestimated… We're not going as far as to the beginnings of film history, rather talking about the now: What value does editing have in the process of filmmaking? What has changed for editing as a result of digitization and why do productions have to start rethinking the game...

TBA soon
PANEL 2: THE TIMES THEY ARE A CHANGIN
12:00 - 13:15
HEADS FROM AGENCY AND PRODUCTION HOUSES ON NEW WAYS OF CHAMPIONING THE ART AND BUSINESS OF COMMERCIAL FILMMAKING. GETTING AS TENSE AS IT GETS…
WITH Marcus Gaab / photographer & director & partner / the gaAbs + Ricardo Distefano / chief creative officer / TBWA Düsseldorf + …
Key Notes & Break-Out Sessions + SCREENINGS
OKAY STUDIO - The Swiss Army Knife of Post Production
Been to the DISCOVERY Gate yet?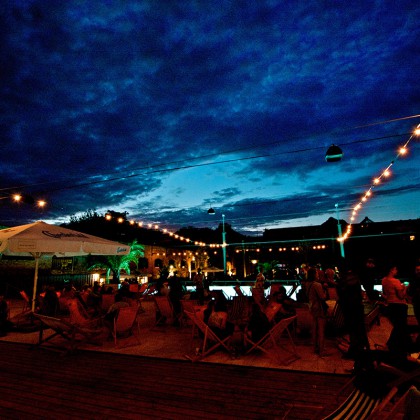 Join the coolest people from Production
and agency as well as direction, camera, post-production and music.
PANEL 3: ON MUSIC FOR ADVERTISING
13:30 - 14:45
Panel Discussion with Imogen Pring/ Head of Production / GOLDSTEIN + Matthew Lawrenson / Creative Director / DOLCE + Tobias Brinkmann / head of licensing / Warner Chappell Music + …
PANEL 5: DIRECTORS PANEL ON STYLE DRIVEN VS. STORY DRIVEN CONTENT
16:30 - 17:45
DISCUSSING social responsibility within BRANDED STORYTELLING. ABOUT entertainment, gimmickS, wanting to seem socially responsible, AND ABOUT genuine, provocative filmS that showcase true opinions and TRIGGER the audience TO BECOME more consciouS. LET'S SEE WHERE IT GETS…

With BEAR DAMEN + KAY Lindhout + VivIen Weyrauch + LUCA FINOTTI + Hanna maria heidrich
"ONLY THE INTERNET CAN JUDGE ME"
Fast Food Commercial vs. Self Made Content
16:30 - 17:15
HENRIK VON MÜLLER / MANAGING DIRECTOR & EXECUTIVE PRODUCER / WOODBLOCK
"Everything you always wanted to know about film production but couldn't care to ask..."
15:15 - 16:15
KEYNOTE BY MIGUEL TEIXEIRA // FOUNDER & CREATIVE DIRECTOR // MR.FRANK + CAITLIN RICKETTS // HEAD OF CREATIVE DEVEOPMENT & DIR. REP // MR.FRANK

Working in film is a tricky business, and life on set can be intimidating, especially for the uninitiated. Luckily Mr.Frank have years of filmmaking experience, with the physical and mental scars to prove it. Now, we're lifting the lid on the film industry and sharing our invaluable insider know how of the do's and don'ts when in film production...